bizjournal.com
Sergio Chapa
Reporter-
San Antonio Business Journal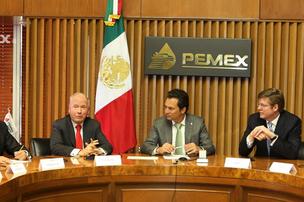 Mexico's national oil company PEMEX has signed a deal with U.S.-based investment firms BlackRock and First Reserve to begin the second phase of a pipeline that will bring natural gas from the Eagle Ford shale to cities hundreds of miles south of the border.
PEMEX CEO Emilio Lozoya-Austin signed the deal with representatives from both companies in Mexico City on Thursday.
Under the 25-year deal, BlackRock is investing $4.6 billion and First Reserve is investing $30 million in the Los Ramones II natural gas pipeline, earning them a combined 45 percent control of the ambitious energy project.